Foil Journal
Uniquely designed and beautifully printed, our foil journal is a sleek and modern writing companion at a price point you can feel good about. With the innovative union of special foil printing and embossing techniques, our designers can reimagine beyond conventional prints and explore the elements of metallic finishes and surface textures.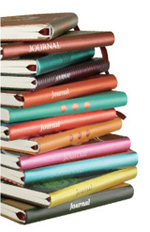 Whether it be our original or your custom designs, the possibilities are endless.
With a high capacity production facility and a seasoned design team, new designs are available every month at a very competitive price; making this one of our best selling products.